10+Love Quotes In Urdu-Best Love Quotes in Urdu
Love Quotes In Urdu-Best Love Quotes in Urdu
What is Love Quotes in Urdu?
Love Quotes In Urdu can be defined as the act of communicating one's emotions and experiences. People display their sentiments and sensations through written text, resulting in poems. Love Quotes In Urdu has a large following of devotees that study and comprehend Love Quotes Urdu on a daily basis. Sad poetry in Urdu is an expression of one's dissatisfactions and grievances that everyone faces in their daily lives.
Several individuals assume that those with a bunch of cash never have a bad day. However, I consider that everyone has their unique highs and lows in daily existence since emotions cannot be sold or bought.one can't really purchase emotions because he is powerless in such a scenario. Almost every poet has narrated a specific collection of Love Quotes In Urdu that you can associate with when you feel love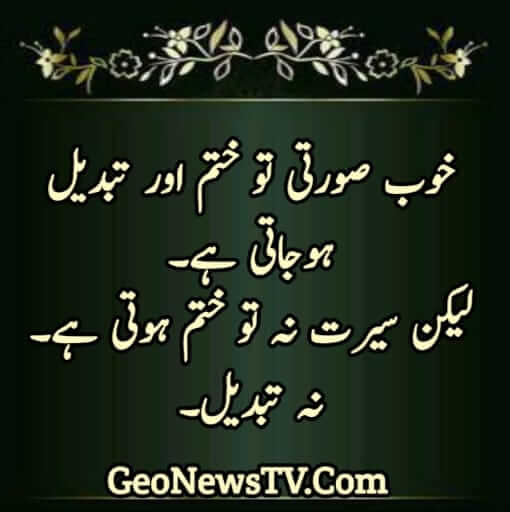 KHOBSORTI TU KHATAM AUR KHATAM HO JATI HAI
LAKIN SIRAT NA TU KHATAM HOTI HA NA TABDEEL
RELATED  45+Quotes in Urdu-Best Quotes in Urdu-Urdu Quotes About Life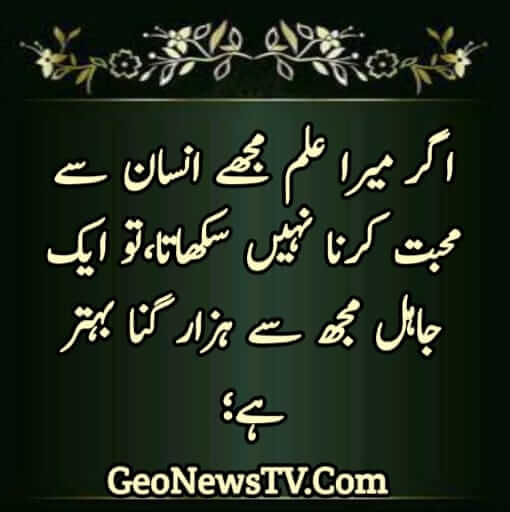 AGR MERA ELM MUJE INSAN SAY MOHABBAT KRNA NHI SEKHATA,
TU AK JAHIL MUJ SY HAZAR GUNAH BEHTR HA
INSAN BHI BUHAT AJEEB HA
NAFRAT KE IZHAR MAIN TAKHEER NHI KRTA
AUR MUHABBAT KW CHUPATA PHIRTA HA.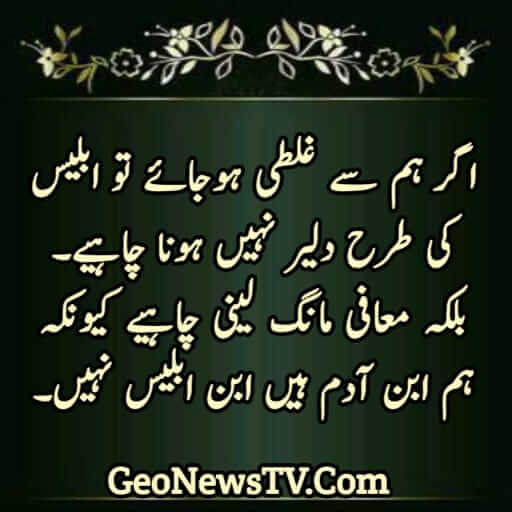 AGR HUM SE GHALTI HOJAYE TU IBLEES KI TARAH DALAIR NAHI HONA CHAHIYE
BALKE MAFI MANG LYNI CHAHHIYE KIUN KE HUM ABN E ADAM HAIN ABN E IBLEES NHI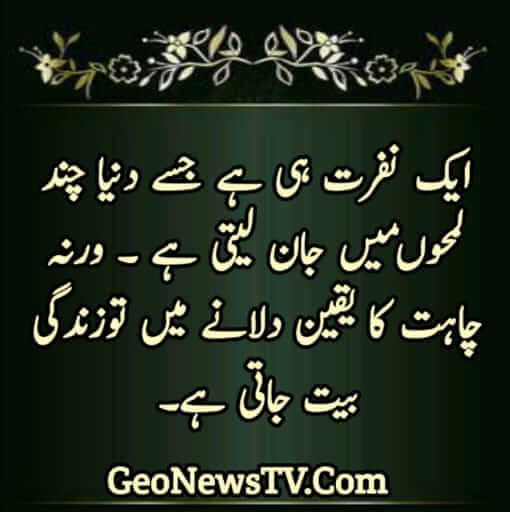 AK NAFRAT HI HA JISI DUNIA CHAND LAMHON MAIN JAAN LETI HAI
WARNA CHAHAT KA YAQEEN DILANY MAIN ZINDAGI BEET JATI HA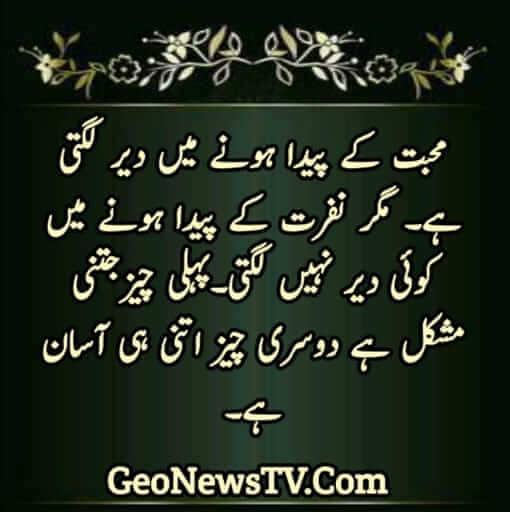 MUHABBAT KE PAIDA HONE MAIN DAIR LAGTI HAI
MAGAR NAFRAT KE PAIDA HONE MAIN KOI DAIR NHI LAGTI
PEHLI CHEEZ JITNI MUSHKIL HA DOSRI CHEEZ ITNI ASAAN HA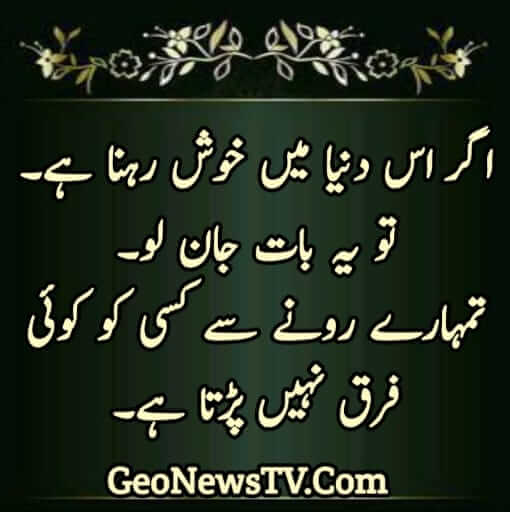 AGR IS DUNIA MAIN KHUSH REHNA HAI TU YE BAT JAN LO 
TUMHARY RONY SAY KISI KO KOI FARQ NAHI PRTA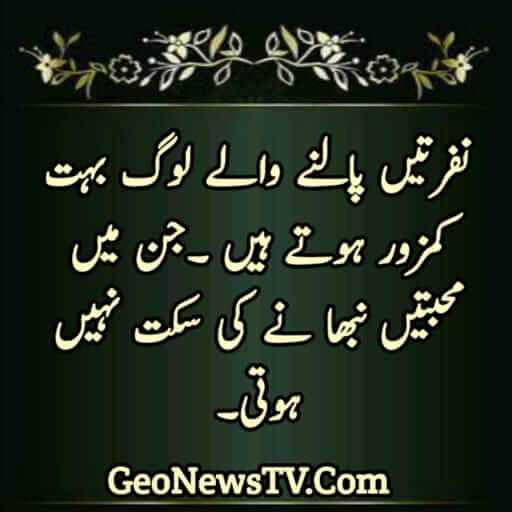 NAFRTAIN PALNY WALY LOG BOHOT KAMZOOR HOTY HAIN
JIN MAIN MUHABBATAIN NIBHANY KI SKAT NAHI HOTI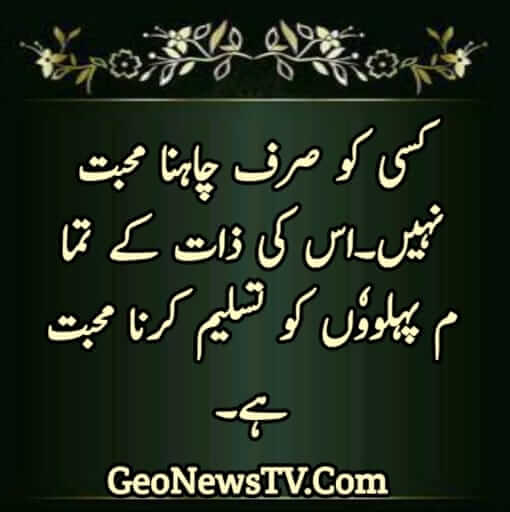 KISI KO SIRF CHAHNA MUHABBAT NAHI
OSKI ZAAT KE TAMAAM PEHLO KO TASLEEM KRNA MUHABBAT HA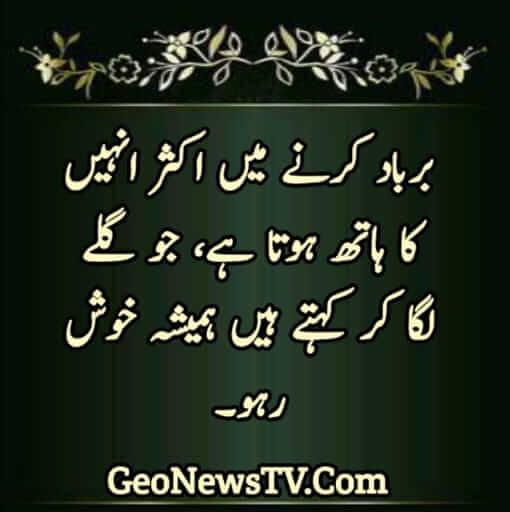 BARBAAD KRNE MAIN AKSAR INHI KA HAAT HOTA HA
JO GALY LAGA KR KEHTY HAIN K HAMESHA KHUSH REHNA